Announcing Picashot Portfolios: Your personal space to showcase the beauty of video games
Showcase your work in a dedicated space that's all about you and your creative vision.
Gamers and Virtual Photography (VP) artists, we have some exciting news for you! We're thrilled to annouce the launch of a picashot.me, a brand new platform for showcasing your gaming photos in a stunning format that will take your Virtual Photography photo sharing to the next level.
With our app and web application, you can already upload your gaming photos or VP content and share it with others. But now, we're taking it one step further by giving you your very own portfolio site! This means that you can showcase your work in a dedicated space that's all about you and your creative vision.
The best part? Your portfolio site will have its own unique URL, which will be something with the following format; username.picashot.me. This means that anyone can access your site at any time, from anywhere in the world. You can share this URL with your friends, family, fans, or even potential clients to show off your work in a professional, visually appealing way.
Your portfolio site is built in a photography portfolio layout, which means that your content will be beautifully displayed (yes, no cropping!) and easy to navigate. We're working on adding additional features over the coming weeks so you can customize your site with your own branding and personal touches, making it truly yours.
We understand that as a Virtual Photography artist, you need a space that truly showcases your work in a professional, eye-catching way. And with picashot.me, we've made it easy for you to do just that. Simply upload your favorite photos to the Picashot mobile or web app, and watch as they're seamlessly integrated into a beautiful, customizable portfolio layout that's perfect for showing off your VP artistic skills to the world.
What sets picashot.me apart from other portfolio platforms out there? For starters, it's built specifically with Virtual Photography in mind, so you know that every layout and feature is tailored to your needs as a Virtual Photographer. Plus, because it's integrated with the Picashot app, you don't need to worry about juggling multiple platforms or spending hours building a website from scratch. With picashot.me, you can focus on what you do best: taking stunning Virtual Photography shots.
Here are some key benefits of having your own portfolio site:
A dedicated space to showcase your work: No more sharing your content on crowded social media platforms where it can get lost in the noise. Your portfolio site will be a clean, elegant space that puts your work front and center.

Increased visibility: With your own unique URL, your portfolio site can be easily shared and accessed by anyone who wants to see your work. This means that you'll have more eyes on your content, which could lead to new opportunities and features.

But that's not all. While we're still constantly working to make picashot.me even better with new personalization features and templates in the pipeline that will allow you to truly make your portfolio your own, there are also plans to add the ability to link your preferred domain to your portfolio site, and are committed to giving you the flexibility and control you need to showcase your work in the best possible way.
So what are you waiting for? Head over to our website and start building your own stunning Virtual Photography portfolio today. And if you have any suggestions or feedback on how we can make it even better, we'd love to hear from you! Shoot us a DM on Twitter and let us know what you think.
Important Update
Some browsers don't support underscores in subdomains, which could cause trouble when accessing your portfolio page connected to your username on Picashot, so we recommend using a username without underscores🌟
Support Us!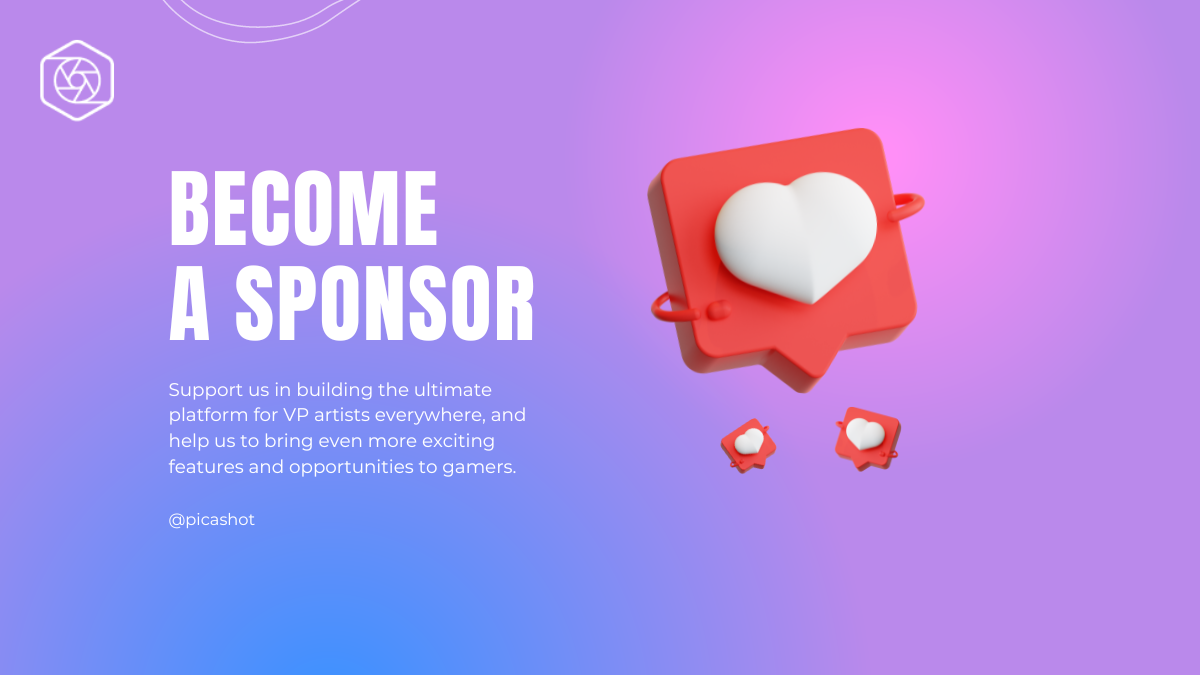 If you're loving Picashot and its creative vision, and would love to throw in a support, we'd love to invite you to join us in building the ultimate platform for VP artists everywhere. By becoming a sponsor of Picashot, you'll be directly supporting our vision and helping us to bring even more exciting features and opportunities to our users. And as a thank-you for your support, we'll show off your status as a valued sponsor on our official sponsors page.
While we don't offer any specific incentives for sponsorship at the moment, we're always open to exploring new ways to reward our sponsors and partners. So whether you're an individual, a business, or just someone who believes in what we're doing, we'd be honored to have your support. Just click the link to learn more and become a sponsor today. Together, we can make Picashot the go-to platform for Virtual Photography artists around the world.
THANK YOU!!!